The Körber European Science Prize
Application Deadline: March 1, 2019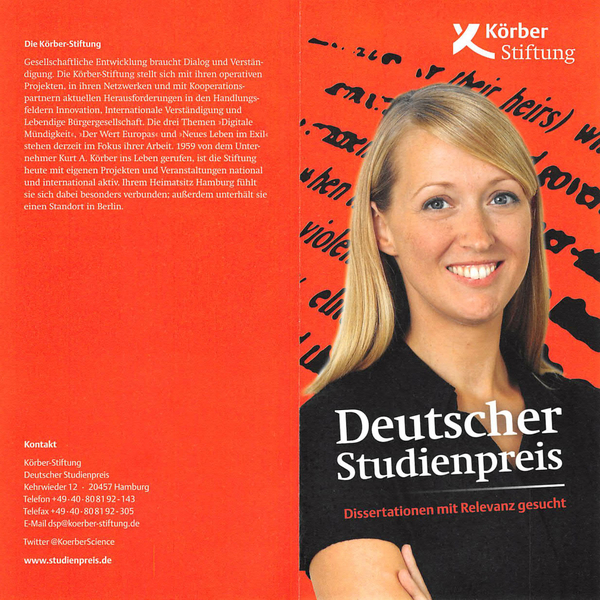 CyberMentor
Mentoring program for the promotion of girls in MINT
What is CyberMentor?
CyberMentor is Germany's largest online mentoring program for the promotion of girls in MINT (mathematics, informatics, natural sciences and technology) and is organized by the universities of Regensburg and Erlangen-Nuremberg. Through your involvement as a mentor you can be a role model for the female students and encourage them to put their plans into action, for example, in the form of MINT activities or by choosing a MINT course of study. Our research shows: more than 70% of the interviewees who took part in CyberMentor later decide to study a MINT subject!
How does the mentoring work?
For one year you mentor a 5th to13th grade female student online. This student shares her MINT interests. On the password-protected platform, you can communicate via chat, email and forum. In this way, you can share with the student your knowledge and ideas about the MINT areas, for example, information about education and work or about MINT topics. You can manage your time flexibly -- starting from 30 minutes per week.
In addition, we offer comprehensive mentoring materials, such as online tutorials or MINT topics in the form of project proposals.
How do you benefit as a mentor?
As a mentor, you not only actively promote young female MINT talent, but also gain access to a network of up to 800 other mentors from all over Germany. We also pass on exclusive offers from our sponsors and partners to you. In this way, you have the opportunity to easily make and use new contacts.
Additional offer: What is CyberMentor Plus?
CyberMentor Plus launches in December 2018 as a subproject of the "Performance is School" initiative. Plus means that mentees receive additional funding from participating schools. MINT faculty members arrange meetings, discuss mentoring with mentee groups, and can provide MINT projects locally (where you, as a mentor, are not actively involved). Together with the teacher, it is possible to offer the girls optimal support. If you want to participate in CyberMentor Plus, please indicate this in the application.
Further information: CyberMentor Plus
How can you register?
CyberMentor launches a new round four times a year: March, June, September and December.
The next round starts on December 17, 2018.
To register, go to www.cybermentor.de/anmeldung-mentorin
Further information: homepage cybermentor

The following information letter can be forwarded to colleagues or other women from the field of MINT: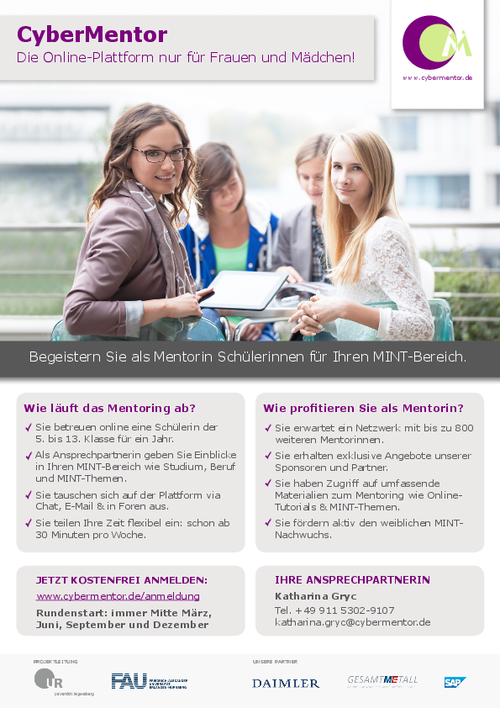 Symposium for Women in IT and related subjects
November 7, 2018
Please find here a follow-up report (only available in German).

Is starting a business really an option? What would be necessary to do so?
Starting-up your own business might be a topic you have already been thinking of or maybe not yet at all. With this event we would like to encourage especially women to think about starting their own enterprise.
There will be information about consulting and start-up-support here on campus and you will also have the possibility to discuss with people who already brought their business from an idea into life. After that, we offer a practical workshop about developing ideas and Business Model Canvas, a technique which helps you to consider the necessary elements to establish your own business.
"Mind Your Own Business – and Make it Real! Turn Your Idea into a Start-Up: A Symposium for Women in IT and Related Disciplines"
Wednesday, November 7, 2018, 10 a.m. to 2 p.m.
Saarland Informatics Campus E1 5, MPI-SWS, ground floor
The symposium addresses interested women in IT and related disciplines (Bachelor, Master, PhD, Postdoc).
The event will be in English. Please find the detailed program below.
Please sign up until November 5, 2018 via e-mail to: mint(at)uni-saarland.de
There are 20 places available.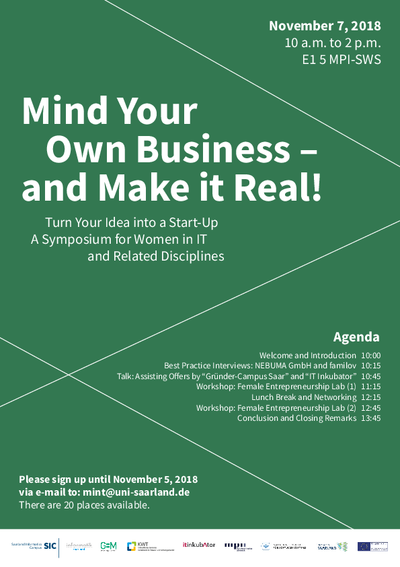 FUNKT - Ferien-Uni-Natur-Kinder-Tage
On a regular basis during the school holidays, the UdS organizes the "FUNKT - Ferien-Uni-Natur-Kinder-Tage" in cooperation with NABU Saar in the woods on the edge of the Saarland University campus.
This year, the event will take place during the autumn break.
Kurswechsel Konferenz 2018
You are Phd Candidate/Postdoc and therefore highly qualified for a leading position in your area of expertise.
Are you familiar with all attainable career paths? Do you need contacts? Do you think there are too many obstacles in your way?
Although companies are opening up to a more diverse pool of applicants they haven't recognized your full potential yet.
The KURSWECHSEL conference presents alternative career paths, builds bridges and offers networking possibilities.
The main conference language will be German, but some formats will be held in English.
October 19th, 2018, 9 am - 6 pm, Goethe-Universität, Frankfurt am Main
Further Information: www.kurswechsel-konferenz.de
3rd Networking-Meet-Up for Women in Computer Science
Invitation to 3rd Networking-Meet-Up for Women in Computer Science at Saarland University
Event took place on Wednesday, 4th of July 2018, from 1:15 p.m. to 3 p.m. in building E1 5 (MPI-SWS, R. 0.29)

If you are a bachelor student, doing a masters or a PhD, if you are a Postdoc or a researcher in any computer-science-related field - just come along! We will have three or four short presentations and interviews and then there will be room for informal talks and exchange with other female computer scientists.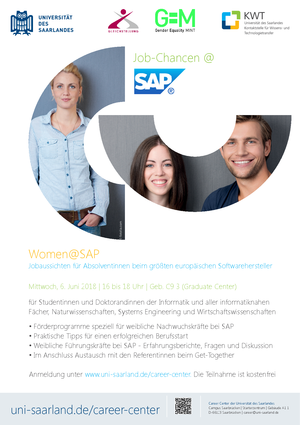 Career choices at SAP
Wednesday 6 June, SAP and UdS are organising a "Women@SAP" event about career choices at SAP.
The event is meant to be interactive with questions, discussions and networking.
Please note that the event is going to be mainly in German.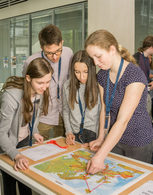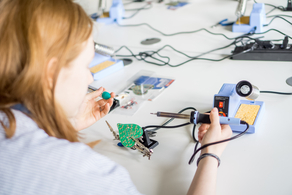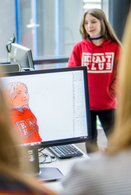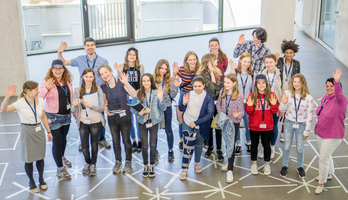 Computer science (research) you can touch
The Max Planck Institute for Informatics (http://www.mpi-inf.mpg.de) and The Max Planck Institute for Software Systems (www.mpi-sws.org) conduct basic research in many areas of computer science. But what exactly is computer science? Do you always need a computer for it? And what is a day in the life of a computer scientist like? This is exactly what we demonstrated to the girls with examples that they could touch and try out.

We looked into different problems, for example:
- How does a computer recognize hand movements?
- How does the navigation know how to get from A to B, and what does that have to do with a backpack?
- How can a computer keep a pendulum upright?
- How does a 3D printer work, and what does that have to do with research?

Participants got the chance to talk to our students, doctoral candidates, and scientists about what it is like to work in research.