3rd Networking-Meet-Up for Women in Computer Science
Invitation to 3rd Networking-Meet-Up for Women in Computer Science at Saarland University
Event will take place on Wednesday, 4th of July 2018, from 1:15 p.m. to 3 p.m. in building E1 5 (MPI-SWS, R. 0.29)

If you are a bachelor student, doing a masters or a PhD, if you are a Postdoc or a researcher in any computer-science-related field - just come along! We will have three or four short presentations and interviews and then there will be room for informal talks and exchange with other female computer scientists.

Since there will be drinks and snacks, you need to register until 22nd of June 2018 under the following email address: aklasen@mpi-klsb.mpg.de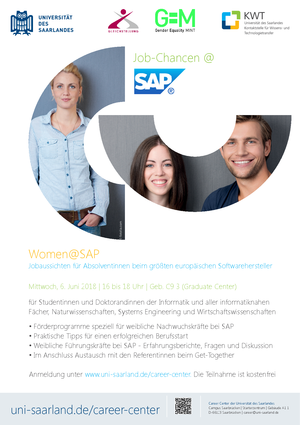 Career choices at SAP
Wednesday 6 June, SAP and UdS are organising a "Women@SAP" event about career choices at SAP.
The event is meant to be interactive with questions, discussions and networking.
Please note that the event is going to be mainly in German.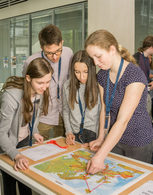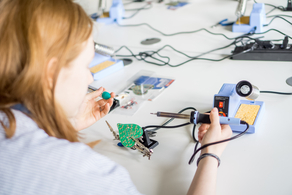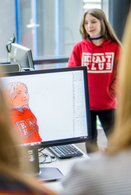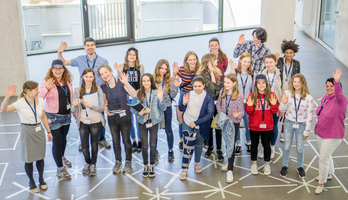 Computer science (research) you can touch
The Max Planck Institute for Informatics (http://www.mpi-inf.mpg.de) and The Max Planck Institute for Software Systems (www.mpi-sws.org) conduct basic research in many areas of computer science. But what exactly is computer science? Do you always need a computer for it? And what is a day in the life of a computer scientist like? This is exactly what we demonstrated to the girls with examples that they could touch and try out.

We looked into different problems, for example:
- How does a computer recognize hand movements?
- How does the navigation know how to get from A to B, and what does that have to do with a backpack?
- How can a computer keep a pendulum upright?
- How does a 3D printer work, and what does that have to do with research?

Participants got the chance to talk to our students, doctoral candidates, and scientists about what it is like to work in research.