FUNKT - Ferien-Uni-Natur-Kinder-Tage
On a regular basis during the school holidays, the UdS organizes the "FUNKT - Ferien-Uni-Natur-Kinder-Tage" in cooperation with NABU Saar in the woods on the edge of the Saarland University campus.
This year, the event will take place during the autumn break.
Kurswechsel Konferenz 2018
You are Phd Candidate/Postdoc and therefore highly qualified for a leading position in your area of expertise.
Are you familiar with all attainable career paths? Do you need contacts? Do you think there are too many obstacles in your way?
Although companies are opening up to a more diverse pool of applicants they haven't recognized your full potential yet.
The KURSWECHSEL conference presents alternative career paths, builds bridges and offers networking possibilities.
The main conference language will be German, but some formats will be held in English.
October 19th, 2018, 9 am - 6 pm, Goethe-Universität, Frankfurt am Main
Further Information: www.kurswechsel-konferenz.de
3rd Networking-Meet-Up for Women in Computer Science
Invitation to 3rd Networking-Meet-Up for Women in Computer Science at Saarland University
Event took place on Wednesday, 4th of July 2018, from 1:15 p.m. to 3 p.m. in building E1 5 (MPI-SWS, R. 0.29)

If you are a bachelor student, doing a masters or a PhD, if you are a Postdoc or a researcher in any computer-science-related field - just come along! We will have three or four short presentations and interviews and then there will be room for informal talks and exchange with other female computer scientists.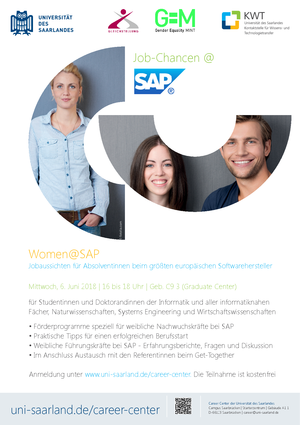 Career choices at SAP
Wednesday 6 June, SAP and UdS are organising a "Women@SAP" event about career choices at SAP.
The event is meant to be interactive with questions, discussions and networking.
Please note that the event is going to be mainly in German.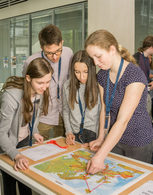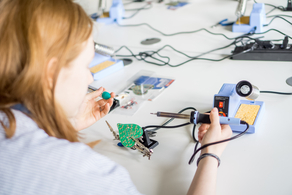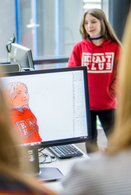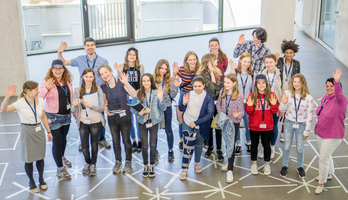 Computer science (research) you can touch
The Max Planck Institute for Informatics (http://www.mpi-inf.mpg.de) and The Max Planck Institute for Software Systems (www.mpi-sws.org) conduct basic research in many areas of computer science. But what exactly is computer science? Do you always need a computer for it? And what is a day in the life of a computer scientist like? This is exactly what we demonstrated to the girls with examples that they could touch and try out.

We looked into different problems, for example:
- How does a computer recognize hand movements?
- How does the navigation know how to get from A to B, and what does that have to do with a backpack?
- How can a computer keep a pendulum upright?
- How does a 3D printer work, and what does that have to do with research?

Participants got the chance to talk to our students, doctoral candidates, and scientists about what it is like to work in research.