Offers of the Max-Planck Society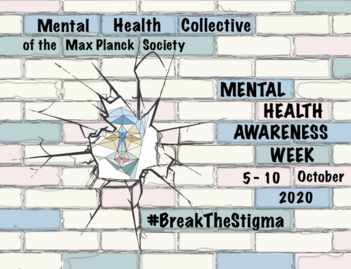 EMAP
The Max Planck Society offers an 24/7 available Anonymous Assistance Program for Mental Questions by the private counseling organisation "Fürstenberg Institute":
It is called EMAP, the "Employee and Manager Assistance Program".
You will find the contact at the MPS Intranet Site about counseling offers.
It may have sense to look at the suggestions for being counseled with different kinds of conflicts first.
Mental health collective
If you want to know the way to join the Collective, or if you have any further questions, we are happy to help:
Please contact the Equal Opportunities Officer.
Mental Health Awareness week
Further information about MHAW week and the topic of Mental Health can be found on the Mental Health Awareness Week webpage.
If you have any questions or suggestions, please don't hesitate to get in touch with the Mental Health Collective (mhc-owner@lists.mpg.de).
Follow us on Twitter: @MPG_MHC
Mental Health During COVID-19 pandemic
1. Do not cancel appointments with your therapist if you are already undergoing treatment (if you are not quarantined and if being outside is safe for you and members of your household)

2. Try to stick to a daily routine (go to sleep, get up, and eat at your usual times)

3. Eat balanced meals

4. Stay active

5. Relax

6. Socialize

7. Support others
exercise (you can find workouts to do at home)

engage in activities you enjoy

maybe try something new

go for a walk (if you are not quarantined and if being outside is safe for you and members of your household)

take a bath

medidate

learn self-massage techniques

call friends and family members on the phone

hold video-conferences with your friends, family, and co-workers

take walks together (this is safe, as long as you keep a minimum distance of 1.5 m)

There are a lot initiatives to support local people in high risk groups:
· https://www.die-einkaufshelden.de/
· https://nh-saarland.de/
· https://www.quarantaenehelden.org/
NOTE: please contact these sites if you need help!

8. Dealing with the media

9. Seek support
Please take care of yourselves and act responsibly! Remember, the situation will not last forever.