Reconciliation of career and family life is a major priority in the MPG
Tested quality through audit procedures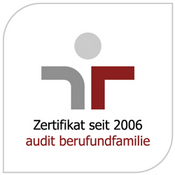 The Max Planck Society has been vigorously pursuing the goal of reconciling career and family life for over ten years. In 2006, together with all its Institutes, it was (and still is) the first entire scientific organization to receive this certification from the charitable organization berufundfamilie Service GmbH after undergoing a detailed audit procedure. Since then, on an ongoing basis, the family-oriented measures already in place have been reviewed and additional initiatives for implementing a family-conscious corporate policy have been defined and introduced. In 2018, the audit certificate "berufundfamilie" was awarded to the Max Planck Society for the fifth time. To obtain this certification, additional measures to improve the work-life balance were defined in a new voluntary commitment with the aim of permitting employees to achieve even greater reconciliation of family and work by an increasing sensitizing of all institutes and institutions for the topic. Continuous examination and means-tested implementation respectively adaptation of measures for all occupation groups shall lead to a high level of penetration.
With this policy, the MPG wishes to enhance its attractiveness in the international environment and recruit new, highly qualified staff. At the same time, the family-friendly conditions shall help employees to identify more strongly with "their" MPG.
Information session on Childcare (Kita & Kindertagespflege) in Saarbrücken
This offer is for people who moved to MPI/Saarland University with a child/children or who are planning to have a child in the near future.
Often, childcare is a priority for parents when they are considering moving to a new place, however, it can take some time in understanding the existing system. Therefore, Michelle Froese-Kuhn and Dhara Sheth from Saarland University's family office will share information on Kitas and child minders (Tagesmütter/-väter) in Saarbrücken. How to get a place for your child in a timely manner will be talked about as well. The presentation will be done in German and English, followed by Q & A.
Presented by audit familiengerechte hochschule-Team
8th February, 11:00 am
A video of the event was created. If you are interested, please contact Alexandra Klasen-Schmitt.
The balance of work or research and family life is a central concern of the Max Planck Institute for Informatics (MPII), which is why the Institute's management, its joint administration, and the equal opportunities officers are working hand in hand on this subject. Because starting a family brings major life changes, parents and parents-to-be are provided with all relevant information and get support through various offers and programs. These include, in particular, childcare options and flexible working time models.
The MPII's support begins during pregnancy. The personnel department advises parents-to-be on the various offerings from the Institute as well as from the Max Planck Society.
Important benefits, e.g. the state offered child and parental allowances, must be applied for independently. Deadlines must be observed! For further information, including further services, see, e.g. the webpage of the Federal Ministry for Family, Senior Citizens, Women and Youth: Bundesministerium für Familie, Senioren, Frauen und Jugend. Also, it is important to register for a place in a kindergarten or daycare as early as possible. (We cannot guarantee that this is an exhaustive list of benefits and offers.)
Furthermore, the Institute offers numerous childcare options for the little ones. Not only can parents choose from daycare centers near the Institute, for example, the "UNIKATE" daycare center on the campus, or the "MEINE VILLA" daycare center in the city center, but they may also use the parent-child office and nursery room in the MPII building. In addition, the Institute has a framework agreement with the family service agent pme, which provides childcare and care for the elderly.
Amendments to eligibility conditions in the "Infant childcare support from funds of the Max Planck Foundation" pilot project
Due to numerous family policy decisions taken by the federal states overlapping with the measures of our pilot project, funding beginning from 1 January 2020 will again be limited to the scope of funding granted in the first year of the pilot project.
The following changes will take effect as of 1 January 2020:
The project duration will be extended by a further year until 30 June 2020.
Only the first year of the child's life is eligible for funding. An allowance shall be granted from the 3rd to the 12th month of the child's life at the earliest.
We are pleased to inform you that, with the permission of the Max Planck Foundation, any remaining funds available in the pilot project "Smallest Children's Funding" can be allocated beyond the planned project period (until 30 June 2020)!

The application procedure:
As a matter of principle, new applications must be submitted from 01.01.2020 onwards. Previous applications and grants have expired with effect from 31.12.2019.
You can already now submit your application - provided all application requirements are met - until the end of your child's 12th month of life (maximum 10 months).
However, the grant will only be revocable for this entire period. This applies in particular to the funding amount paid out after 30 June 2020. There is no entitlement to support.
Before the end of 30 June, your institute will receive a message as to whether and for how long the grant can continue to be paid out. The further payment will then be made automatically by your institute.
We kindly ask you to include all necessary documents already at the time of application. Late submission of documents may impact negatively on the funding period, as months already expired cannot be considered.
Should you have any questions regarding general eligibility or the application procedure, please contact your Institute Administration or the person responsible for this topic area ( Equal Opportunities Officer) at your MPI directly.
Information for Foreigners
FUNKT - Holiday-Uni-Nature-Kids-Days
Holiday offer for elementary school kids at Saarland University.
In 2019, children of Saarland University's students and employees can once again take part in our holiday program FUNKT. Friends and kids from affiliated institutes or the Science Park are also very welcome.
FUNKT is a nature-oriented program offered in cooperation with NABU Saar on the campus Saarbrücken. Daily between 8:30 and 16:30, the kids play together in the forrest by the campus, learn about plants and creatures there, do some crafting and carving etc. It is a lot of fun!
The prize is 110€ per week and child (except "Ostern" 2019: 100 €). The fee includes lunch and childcare between 8:00 and 8:30 as well as 16:30 and 17:00.
Contact (registration, questions etc.):
audit familiengerechte hochschule, 0681 302-2911,
auditfamilie@uni-saarland.de or familie@uni-saarland.de
http://www.uni-saarland.de/page/audit/kinder/funkt.html
Registration form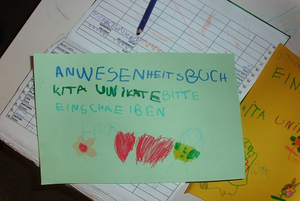 The MPII has arranged for childcare on the university campus, in the immediate vicinity of the Institute. There are 8 places reserved for members of the Institute.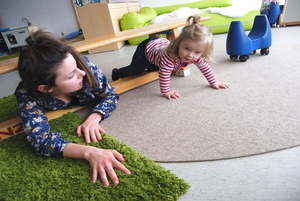 The MPII arranges for childcare in the Saarbrücken city center. There are 12 places reserved for members of the Institute.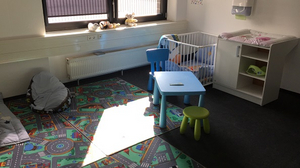 Parent-Child Room
The MPII offers all employees with young children access to a fully equipped parent-child room, where they can work while caring for their children.
The mobile children's room at the workplace - facilitated flexible support.
It can be found in the 2 buildings of the MPI-Inf in Saarbrücken and Kaiserslautern, and in the building of the MPI-SWS in Saarbrücken.
Family Service
In cooperation with the family service agency PME, the MPII offers its employees a placement service for in-home daycare, kindergardens, childcare for sick children, holiday camps, and much more. The costs for consultation and placement are covered by the Max Planck Society.
Further Information:
Arrangement of childcare:
Childcare at home (babysitter)
Au pair/Granny to go
In some cases, arrangement of places at nursery or daycare facilities
Placement in holiday care centres operated by third party providers cooperating with pme
Arrangement of back-up emergency care:
Homecare eldercare
Consultation in the event of illness and need for long-term care for close relatives
Individual consultations on alternative care solutions
Comprehensive advice on how to finance care
Procurement of care personnel and domestic staff, out-patient services and places in homes
Under certain circumstances, emergency care at short notice in private households
Help in coping with illness, disability and care dependence
Online portal
Self-search functions via databases for babysitters and childcare facilities
Tutorials on questions like, for example, provision for old-age or administrative procedures related to the birth of a child (new)
Information on the portfolio of services on offer to MP
Further information will be available on the intranet.