The balance of work or research and family life is a central concern of the Max Planck Institute for Informatics (MPII), which is why the Institute's management, its joint administration, and the equal opportunities officers are working hand in hand on this subject. Because starting a family brings major life changes, parents and parents-to-be are provided with all relevant information and get support through various offers and programs. These include, in particular, childcare options and flexible working time models.
The MPII's support begins during pregnancy. The personnel department advises parents-to-be on the various offerings from the Institute as well as from the Max Planck Society.
Important benefits, e.g. the state offered child and parental allowances, must be applied for independently. Deadlines must be observed! For further information, including further services, see, e.g. the webpage of the Federal Ministry for Family, Senior Citizens, Women and Youth: Bundesministerium für Familie, Senioren, Frauen und Jugend. Also, it is important to register for a place in a kindergarten or daycare as early as possible. (We cannot guarantee that this is an exhaustive list of benefits and offers.)
Furthermore, the Institute offers numerous childcare options for the little ones. Not only can parents choose from daycare centers near the Institute, for example, the "UNIKATE" daycare center on the campus, or the "MEINE VILLA" daycare center in the city center, but they may also use the parent-child office and nursery room in the MPII building. In addition, the Institute has a framework agreement with the family service agent pme, which provides childcare and care for the elderly.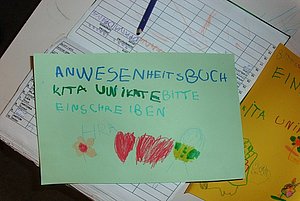 The MPII has arranged for childcare on the university campus, in the immediate vicinity of the Institute. There are 8 places reserved for members of the Institute.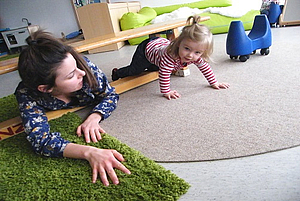 The MPII arranges for childcare in the Saarbrücken city center. There are 10 places reserved for members of the Institute.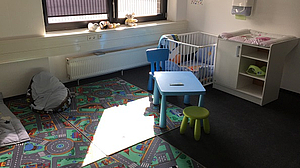 Parent-Child Room
The MPII offers all employees with young children access to a fully equipped parent-child room, where they can work while caring for their children.
Family Service
In cooperation with the family service agency PME, the MPII offers its employees a placement service for in-home daycare, kindergartens, childcare for sick children, holiday camps, and much more. The costs for consultation and placement are covered by the Max Planck Society.
Further Information: PME Family Service