The Central Administration of the MPS offers following information:
"Infant childcare support from funds of the Max Planck Foundation" pilot project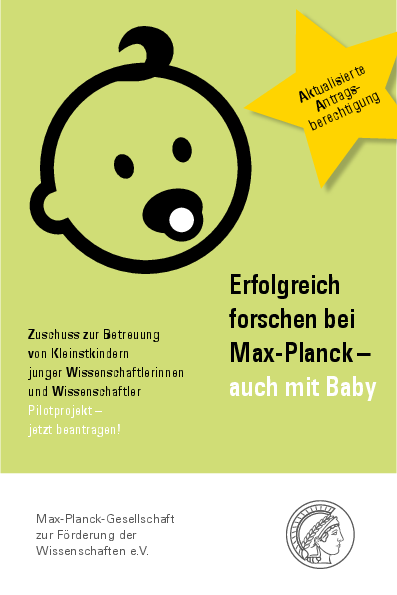 Amendments to eligibility conditions in the "Infant childcare support from funds of the Max Planck Foundation" pilot project
Due to numerous family policy decisions taken by the federal states overlapping with the measures of our pilot project, funding beginning from 1 January 2020 will again be limited to the scope of funding granted in the first year of the pilot project.
The following changes will take effect as of 1 January 2020:
The project duration will be extended by a further year until 30 June 2020.
Only the first year of the child's life is eligible for funding. An allowance shall be granted from the 3rd to the 12th month of the child's life at the earliest.
We are pleased to inform you that, with the permission of the Max Planck Foundation, any remaining funds available in the pilot project "Smallest Children's Funding" can be allocated beyond the planned project period (until 30 June 2020)!

The application procedure:
As a matter of principle, new applications must be submitted from 01.01.2020 onwards. Previous applications and grants have expired with effect from 31.12.2019.
You can already now submit your application - provided all application requirements are met - until the end of your child's 12th month of life (maximum 10 months).
However, the grant will only be revocable for this entire period. This applies in particular to the funding amount paid out after 30 June 2020. There is no entitlement to support.
Before the end of 30 June, your institute will receive a message as to whether and for how long the grant can continue to be paid out. The further payment will then be made automatically by your institute.
We kindly ask you to include all necessary documents already at the time of application. Late submission of documents may impact negatively on the funding period, as months already expired cannot be considered.
Should you have any questions regarding general eligibility or the application procedure, please contact your Institute Administration or the person responsible for this topic area ( Equal Opportunities Officer) at your MPI directly.

Arrangement of childcare:
Childcare at home (babysitter)
Au pair/Granny to go
In some cases, arrangement of places at nursery or daycare facilities
Placement in holiday care centres operated by third party providers cooperating with pme
Arrangement of back-up emergency care:
Homecare eldercare
Consultation in the event of illness and need for long-term care for close relatives
Individual consultations on alternative care solutions
Comprehensive advice on how to finance care
Procurement of care personnel and domestic staff, out-patient services and places in homes
Under certain circumstances, emergency care at short notice in private households
Help in coping with illness, disability and care dependence
Online portal
Self-search functions via databases for babysitters and childcare facilities
Tutorials on questions like, for example, provision for old-age or administrative procedures related to the birth of a child (new)
Information on the portfolio of services on offer to MP
Further information will be available on the intranet.