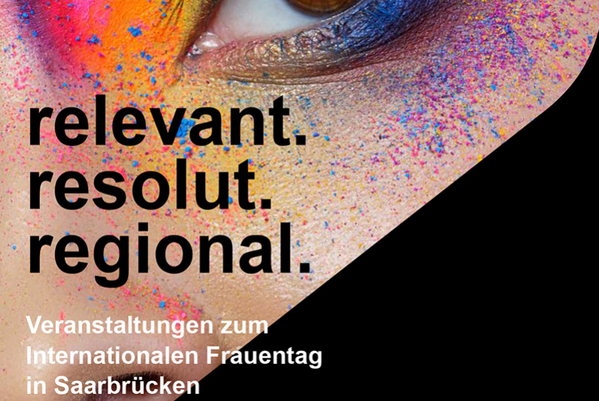 March 8, 2022 marks the 111th anniversary of International Women's Day. To mark the occasion, the member organizations of FrauenForum Saarbrücken and institutions, private individuals and associations have put together a diverse and exciting program.
Throughout March, under the title "relevant. resolute. regional", the important issues of our time will be illuminated and discussed in feminist terms. Politics and art, urban planning and homelessness, pornography and global justice, addiction and money, headscarves and self-defense - the topics of the individual events complement each other and highlight social disruptions and approaches to solutions in equal measure.
The program and further information can be found here.
Starting a career in the field of diversity - Empowerment Workshop
Tuesday, 29.03.2022, 14.00 – 18.00 p.m. on Zoom
Organized for BIPoC doctoral students exclusively, the empowerment workshop is led by Dr. Lana Sirri and Loubna Messaoudi.
The workshop aims to provide a safe space and opportunity for discussion about potential career paths for BIPoC after graduation in NGO and start-up work in Germany.
The participants will examine the existing structural and systematic hurdles and learn how to navigate them to center their career in diversity and intersectional justice.

Loubna Messaoudi (CEO, BIWOC* Rising, Berlin)
Dr. Lana Sirri (Project Manager, BIWOC* Rising, Berlin)


More about BIWOC* Rising and their mission: biwoc-rising.org/about/ 
The working languages will be English and German. To provide a safe space for discussion, the workshop is exclusively offered to BIPoC (Black Indigenous People of Color) PhD students. Please register by Tuesday, 22.03.2022 by sending an email to Yoana Vergilova at vergil@coli.uni-saarland.de.
3rd Saarbrücken Europe Conference
May 12 and 13, 2022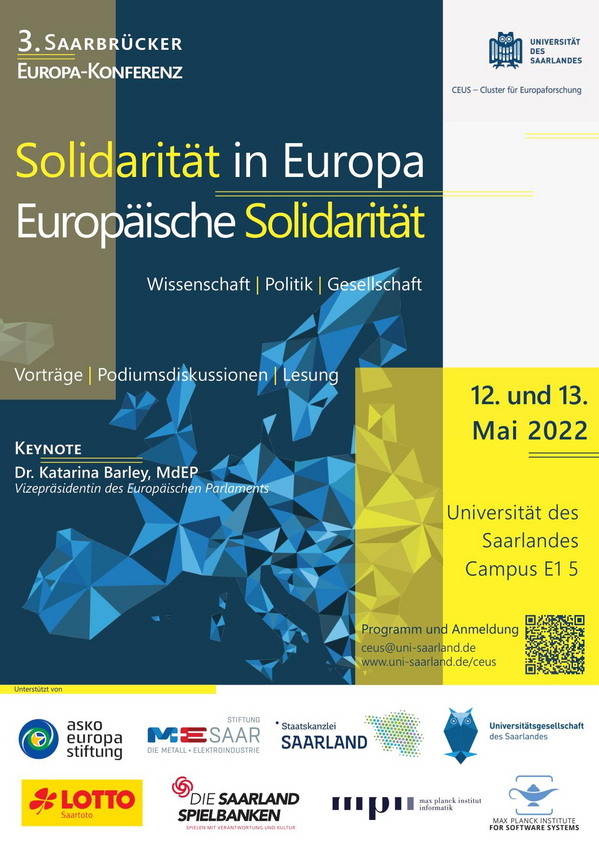 Solidarity in Europe - European Solidarity
Further information at: www.uni-saarland.de/ceus
The Gender Data Gap
Wednesday , 13 April 2022 - 10 a.m. on Zoom
The Gender Data Gap -- And its Implications for Data-Driven Decision Making
Abstract: Most of recorded human history is one big data gap.
Speaker: Meike Zehlike (Senior Scientist)
In this talk it will be cover different examples on how the gender data gap creates a world that disadvantages women in ways ranging from inconveniences to outright life-threatening dangers. And how data-driven decision making has the potential to amplify the problem.
The event is open to everyone who is interested.
19th Saarbrücken Women's Run
Saturday, 28. May 2022 - 3:00 p.m
Dear running enthusiasts!
After a two-year break, the women's run is back this year and you are cordially invited to take part on May 28th, 2022!
Meeting:
Saturday 28 May 2022
Tee times:
From 15:00 clock
Start and finish:
Old Bridge/ Saarwiesen (below State Theater)
66111 Saarbruecken
Registration:
Online until Thursday, May 26, 2022, 5:00 p.m
at: www.saarbruecker-frauenlauf.de
Important:
Make use of ONLINE registration as well as cashless payment! Only in exceptional cases can the start fee and start number issue be set up parallel to the late registrations on the start day from 12:00 p.m. to 2:30 p.m.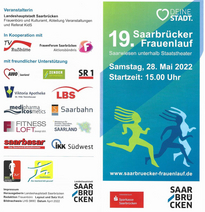 The 12th N2Women Workshop at SIGCOMM'22
N2Women'22 Call for Posters
The 12th N2Women workshop (N2Women'22) will be co-located with
SIGCOMM'22 in Amsterdam, Netherlands, in the week of August 22, 2022.
N2Women aims to foster professional networking among women in computer networking and related research fields in which women are traditionally underrepresented. The workshop welcomes women, but also men who share the same research interests and face the same career hurdles. The program of the workshop will include keynotes and discussions on careers in networking, but also technical sessions where, in particular, junior researchers are welcome to present their research as poster presentations.
Posters will not be published and can therefore be under submission to other conferences or workshops. Authors of accepted posters will be required to present their work as part of a lightning presentation
session.
The best poster will be awarded a Best Poster Award and runners-up will receive an honorable mention.
Participation and Travel Grants
N2Women is pleased to provide travel grants to its annual workshop and encourages participants to apply. Information about the application process will be provided on the workshop website.

Important Dates
May 25, 2022: Poster abstract submission deadline
June 6, 2022: Notification of acceptance
N2Women'22 workshop website:
https://conferences.sigcomm.org/sigcomm/2022/n2women.html
Submit your poster abstract at n2women22.hotcrp.com.