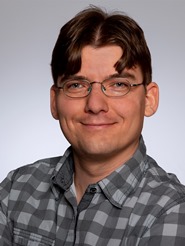 Marco Voigt
Doctoral researcher
Max-Planck-Institut für Informatik
Saarland Informatics Campus
Campus E1 4
66123 Saarbrücken
+49 681 9325-2917, fax -2999
Physical address: building E1 5, room 636
Personal Information
Research Interests
Formal logics and reasoning, in particular:

decidable fragments of first-order logic
decidable combinations of first-order fragments and fragments of background theories
In general, I'm interested in formal logics and automated reasoning. The logics I'm interested in range from first-order to higher-order logics, including modal and temporal aspects, and also cover combinations of theories.
In the Automation of Logics Group, my research mainly focuses on identifying new decidable fragments of first-order logics, possibly combined with fragments of linear arithmetic over the reals.
First results concern the Bernays-Schönfinkel-Ramsey fragment of first-order logic combined with restricted constraints on real-valued variables. Apart from the theoretical aspects of these results, we've put particular emphasis on developing techniques that facilitate efficient decision procedures. To this end, we successfully employ techniques inspired by quantifier elimination methods for linear real arithmetic.
In the field of pure first-order logic we have described novel fragments that generalize classical fragments which have been known for long, such as the monadic fragment, the Bernays-Schönfinkel-Ramsey fragment, and the Ackermann fragment. The syntactic criteria of the novel fragments do neither refer to the arity of predicate symbols nor to particular quantifiers prefixes. We rather restrict the way of how differently quantified variables may occur together in atoms.
My research was partially supported by the German Transregional Collaborative Research Center SFB/TR 14 AVACS in 2014 and 2015.
Education
since November 2013:
Member of the group Automation of Logic at the Max Planck Institute for Informatics
since October 2012:
Ph.D. candidate at the Saarbrücken Graduate School of Computer Science at Saarland University, Saarbrücken, Germany
May 2012:
Diploma in Computer Science (with distinction) at Dresden University of Technology, Dresden, Germany
Final thesis: On Polymorphic Types with Enforceable Linearity for a Quantum Lambda Calculus (PDF)
Thesis supervisor: Dr. Monika Sturm (Chair of Automata Theory, headed by Prof. Dr.-Ing. Franz Baader)
September 2009 - February 2010:
Erasmus exchange student at Masaryk University, Brno, Czech Republic
October 2005 - May 2012:
Studies in Computer Science at Dresden University of Technology, Dresden, Germany
Academic Activities
Teaching
Winter 2013/14:
Winter 2012/13:
Summer 2012:
Winter 2011/12:
Publications and selected talks