The online babysitting exchange is a free service that brings babysitters and parents together in an uncomplicated way.
Parents - students and employees of the University - use this service exclusively and can check the suitability of the childcare offer via the online card without obligation before making contact.
You can use the babysitting exchange for:
babysitting in private
babysitting in the framework of short-term care
babysitting during events
Contact:
Further information, also about audit familiengerechte hochschule (family-friendly university):
audit familiengerechte hochschule | Universität des Saarlandes (uni-saarland.de)
Daycare Center "MY VILLA"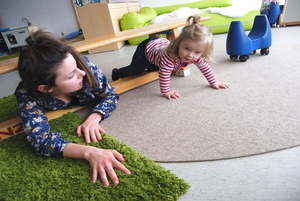 The MPII arranges for childcare in the Saarbrücken city center. There are 12 places reserved for members of the Institute.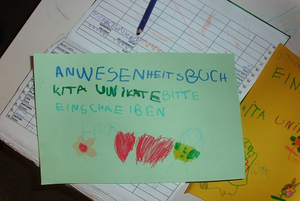 The MPII has arranged for childcare on the university campus, in the immediate vicinity of the Institute. There are 8 places reserved for members of the Institute.
Daycare Center Kettenfabrik
With the children's group Kettenfabrik, the MPI has entered into another cooperation with a daycare center. Currently, one place is available for MPI employees. However, this offer is to be further expanded in the future.
The Kettenfabrik is located in the Rotenbühl residential area and is therefore not far from the university.
The facility only offers full-day places.
The brief profile of the Kettenfabrik:
All-day care for children from 18 months until they start school
short closing times
full board predominantly with organic products
good childcare ratio
spacious outdoor area
quiet location close to the forest
For more information about the chain factory, here is the link to the website.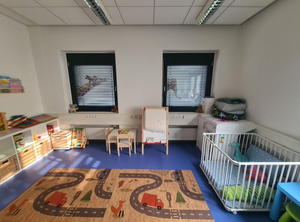 Parent-Child Room
The MPI offers all employees with young children access to a fully equipped parent-child room, where they can work while caring for their children.
The mobile children's room at the workplace - facilitated flexible support.
The Kidsbox includes: Travel cot/playpen, mattress, table, stool, clamp seat, gymnastic mat, books, coloring materials, toys and hygiene items.
It can be found in the building of the MPI-INF and the two buildings of MPI-SWS in Saarbrücken and Kaiserslautern.
Information session on Childcare (Kita & Kindertagespflege) in Saarbrücken
A video of the event was created. If you are interested, please contact Alexandra Klasen-Schmitt.
This offer is for people who moved to MPI/Saarland University with a child/children or who are planning to have a child in the near future.
Often, childcare is a priority for parents when they are considering moving to a new place, however, it can take some time in understanding the existing system. Therefore, Michelle Froese-Kuhn and Dhara Sheth from Saarland University's family office will share information on Kitas and child minders (Tagesmütter/-väter) in Saarbrücken. How to get a place for your child in a timely manner will be talked about as well.
Further Information: audit familiengerechte hochschule-Team (the website is mostly in German)