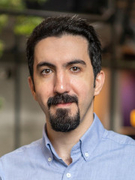 Danesh Zeynali
Address

Max-Planck-Institut für Informatik
Saarland Informatics Campus
Campus E1 4
66123 Saarbrücken

Location

E1 4 - 514

Phone

+49 681 9325 3528

Fax

+49 681 9325 5719

E-mail
I am a Ph.D. student at the Internet Architecture group at Max Planck Institute for Informatics. Before joining the Internet Architecture group I worked as a core engineer in two mobile operators. My master's thesis was on geographic routing in WMSNs and my current research interest is in computer networking.
Danesh Zeynali Gargary, Fariba Osali, Ali. M. Afshin Hemmatyar, "Geographic routing with energy constraint in wirelessmultimedia sensor networks", 27th Iranian Conference onElectrical Engineering (ICEE), Yazd, 2019.
Fariba Osali, Danesh Zeynali Gargary, Kiarash Mizanian, GhasemMirjalily, "Improvement of QoS-aware multicast routing in Mobile Ad hoc Networks", 27th Iranian Conference on ElectricalEngineering (ICEE), Yazd, 2019. (InPersian)
S.M.R. Mirsarraf, Danesh Zeynali "Social Network contributiongraph and analysis a case study on Drupal facility statistics atNIN Forum", Telecommunications (IST), 2010 5th InternationalSymposium 2010.
Selected as RIPE fellow in RIPE79, Rotterdam, Netherland 13-18 Oct, 2019
Okt 2020 - to date:
PhD at Research Group Internet Architecture
Jan 2019- Aug 2020:
Core Engineer at MTN Irancell Telecommunications company, Tehran, Iran.
Sep 2016- Jan 2019:
CoreEngineer at RighTel Communications, Tehran, Iran.
Sep 2014- Sep 2016:
R&DEngineer at Partov Tamas Novin Co. (PARMAN), Tehran, Iran.
Jun 2009- Sep 2009:
Intern atIran Telecommunication Research Center, Tehran, Iran.
2012 - 2015:
Master of Informationtechnology at Sharif University of Technology, Tehran, Iran.
2007-2012:
Bachelor of InformationTechnology at Institute for Advance Studies in BasicSciences (IASBS), Zanjan, Iran.