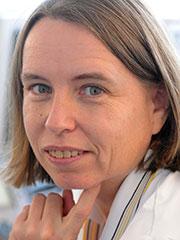 Prof.

Anja Feldmann, Ph.D.
Address

Max-Planck-Institut für Informatik
Saarland Informatics Campus
Campus E1 4
66123 Saarbrücken

Location

E1 4 - Room 518

Phone

+49 681 9325 3501

Fax

+49 681 9325 3599

Email
We are hiring!
You are interested in researching the structure and architecture of the Internet, how they are and - more important - how they could be? Together with some of the world's most renowned experts on this field, with outstanding international connections? You are strong with measurement, analysis, statistics and algorithms? Would love to work in the beautiful and inspiring heart of the German Saarland? Either as a Ph.D. student or postdoc?
If you can answer these questions with "yes" then please do not hesitate to contact me, or simply apply by mail to
inet-jobs@mpi-inf.mpg.de
I studied computer science at Universitaet Paderborn in Germany and received my degree in 1990. After that I continued my studies at Carnegie Mellon University, where I earned my M.Sc. in 1991 and, four years later, my Ph.D. The next four years I did postdoctoral work at AT&T Labs Research, before holding research positions at Saarland University and the Technical University Munich. Since 2006, I have been professor of Internet Network Architectures at Telekom Innovation Laboratories at Technische Universitaet Berlin. In May 2012, I was elected the first woman on the employer side of the Supervisory Board of SAP. Since the beginning of 2018 I am director at the Max Planck Institute for Informatics in Saarbruecken.