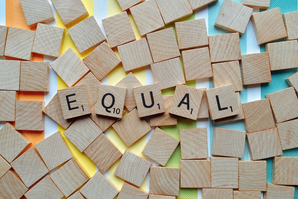 The Max Planck Institute for Informatics supports, as does the Max Planck Society as a whole, its employees regardless of gender, nationality, religion, handicap, age, cultural background or sexual identity. The diversity of our employees is the basis for the outstanding research performed at our Institute.
---
Plan for Gender Equality of the MPI-INF
The equal opportunities plan is part of the MPI-INF's efforts to create a working environment that takes into account the different life situations of the members of the Institute; it thus complies with the equal opportunities established by law.
For us, crafting equal opportunities policies means establishing and developing organizational and structural conditions within the Institute that make individual development opportunities possible for all members of the Institute. Our goal is equal opportunities for all employees, irrespective of their diversity. With this equality opportunities plan, we are continuing the Institute's individual needs policy, which has been successful for years.
The identification and, wherever possible, the removal of development barriers is one of the central common goals of the Institute. We encourage all members of the Institute to participate in the development of gender equality policies and, in this way, continue and improve equal conditions for all employees.

You can find the equal opportunities plan on our intranet.
The war between Russia and Ukraine is currently keeping us all on guard. Some people from our institute come from these countries or neighboring regions and still have family and friends there. But even if the conflict is still far away for some of us, we can and should help. Therefore, we have gathered here a few ways how and where to help. Of course, there are many more possibilities.
https://www.drk.de/hilfe-weltweit/wo-wir-helfen/europa/ukraine-krise-humanitaere-hilfe/
https://www.facebook.com/groups/hostasister/
https://mission-lifeline.de/en/news/

The Refugee Law Clinic Saarbrücken is currently looking for Russian and Ukrainian native speakers who can help with translations.
https://rlc-saar.de/
Best contact: info@rlcsaar.de

If conflict is taking a toll on you psychologically in any way, take a look at our mental health page for the many options available.
---
Culture can build bridges and help alleviate hardship. At the invitation of the Musikfestspiele Saar, there will be a concert by the National Symphony Orchestra of Ukraine in the Alte Schmelz in St. Ingbert on March 20th at 5:00 pm.
Ukraine's leading symphonic organization has been on a European tour and currently sees no possibility to return to its home country. The entire proceeds from this concert will benefit children from Ukraine. The orchestra will continue to play for their country as long as they have the emotional strength to do so.
Tickets are available at 100, 50 and 30 euros. You can reserve tickets at info@musikfestspiele-saar.de Tickets are also available at the box office.
www.herzenssache.de/foerderung/artikel-fluechtlingshilfe-fuer-kinder-aus-der-ukraine-100.html 
Having an orchestra from Kiev as a guest in this time of need is a special opportunity for our region to show our wholehearted solidarity. We count on everyone to spread the word and, of course, to actively support this initiative by attending the concert.

Alexandra Klasen-Schmitt
Equal Opportunities Officer MPI for Informatics
Room 114, Campus E1 5
D - 66123 Saarbrücken
phone: +49 681 9325-5700
Iris Wagner
Deputy Equal Opportunities Officer MPI for Informatics
Room 502,Campus E1 4
D - 66123 Saarbrücken
phone: +49 681 93253500
Claudia Hesse
Deputy Equal Opportunities Officer MPI for Informatics
Room 108, E 1.5
D - 66123 Saarbrücken
phone: +49 681 9325 5703
You can contact us in the following ways:
via mail
via phone
you can come to our offices
zoom call
we can come to your office
we can meet in a neutral room in the institut
In any case, we will preserve the privacy. We are currently working on a way to communicate with us anonymously.
Contact at the Max Planck Society