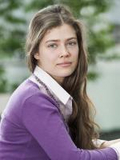 As of October 2017 I have joined UC Berkeley as a postdoctoral researcher with Prof. Trevor Darrell.
My new homepage is here.
Research Interests
Computer Vision
Computational Linguistics
Machine Learning
Education
2012-2017 PhD in Computer Science -- Saarland University (Germany)
2008-2010 M.Sc in Applied Mathematics -- Odessa I.I.Mechnikov National University (Ukraine)
Research Projects
Other
See my Google Scholar web-page for the complete list of publications.